Large Walk In Showers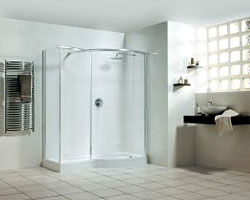 Even if your bathroom isn't huge you can still enjoy a modern design that features one of the most popularly growing shower setups being installed this year. Large walk in showers are high in demand. Everyone has been in the situation where they just can't wake up without a shower. Dragging feet with weary eyes, we painstakingly get ready in the morning. With a wide open walk in shower you can prop yourself up against the wall of your bathroom, turn on the water and shower without having to climb into a tub. When it's time for bathroom renovation, seriously consider large walk in showers.
Style and Class Using Open Space
Many people understand that with the fewer things like wall partitions and furniture cluttering up a space, the bigger it looks. In order to achieve the look within your bathroom that takes advantage of its true square footage, the old bathtub/ shower combination has to go. Since these are usually tucked away in the corner of a bathroom, they eat up space quickly. By using a large walk in shower in the center or corner of a bathroom with the appropriate floor grading for drainage and drainage vent placement you can feature your shower in a unique way that can be as revealing or as private as you want while still being a walk in.
The Naked Appeal
Large walk in showers are typically doorless and they don't always offer the privacy of shower curtains. Though this can really sink the idea for some very private and conservative people there are others who will love the design. Naturists, free spirits and people that are comfortable with their bodies all over the world will appreciate the freedom of a large walk in shower. Not to mention, if you happen to be claustrophobic, a walk in shower is your ticket to comfort versus the confining space between a curtain and a tiled wall. There are of course options for large walk in showers to feature unique partition walls and translucent glass but the pricier and more coveted designs all take advantage of clear glass and a very "bathhouse" feel. Whether you'll like these unique designs is really based on whether you feel uncomfortable in open places while in the buff. A large walk in shower bathroom can be private: after all, there are still door locks on your bathroom door – make use of 'em if you want privacy!
Room For More?
Having an open shower area design as with walk in showers allows greater comfort and access for multiple showering parties. If you have kids that you shower at the same time or if you and your spouse are showering together, no more twister in the confines of a bathtub is required. By taking advantage of a few shower heads you have make plenty of room in a large walk in shower for several people to shower at once. By showering with others you will also help reduce wasteful water consumption!